If you are a parent of a teen girl you might have already thought about the power of your daughter's voice and how you can ensure that she is able to stand up for herself and get ahead in the world.
Wouldn't it be great to give your daughter the training that would give her the ability to speak with confidence, not fearing saying what she has to say, not have her thunder taken from her, getting to the level of success she's capable of without sabotaging because of how she's using her voice?
I've repeatedly seen women struggle with an inability to use their voice to make the biggest impact and even worse, stall their careers because of how their voice is being processed subconsciously.
That's one of the main reasons I decided to take my Psychology of the Voice Effect Program and turn it into a powerful course/group for young girls.
Give your teen the gift of the ability to:
Use her voice with confidence
Feel and be heard
Release fear of judgment
Speak her truth but kindly
The ability to present, answer questions, nail interviews
Reveal the best version of who she is all the time without fear
Make an impact with her message in presentations, conversations, questions, and answers
NO ONE teaches women how to stand in the real power of their voice and make the impact and create the success they are capable of.
I work with women daily in their 30's, 40's, 50's, who have all struggled on some level because they are afraid to use their voice or there are sounds in their voices that are working against them.
People pleasing
Don't rock the boat
Just let it go
Bossy
Feeling the need to prove
Caution, hesitation…fear of getting it wrong
I could go on and on…
The world tells girls and women, through massive societal implications that they have to be nice or if they don't they will be well, not nice…
I have 30 years of research and data that shows me the NUMBER ONE thing that keeps women from getting to the next level of success is what is being subconsciously processed in their voice.
There are very specific sounds that are related to the psychology of the voice that are hurting women every day.
I say let's fix that now!
NO BETTER TIME like the present to teach your daughter how to stand in the true power of her voice and set her up for SUCCESS.
I'm Tracy Goodwin and I've been coaching voices the last 30 years around the globe of executives including C-Suite Fortune 500 companies, professionals, celebrities like Adam Rodriquez of Law and Order, 7 and 8 figure entrepreneurs like James Wedmore and even Supreme Court Justices.
My 30 years as a voice researcher and coach has led me to create a methodology I call Psychology of the Voice
In the Psychology of the Voice Effect, we rewrite the drivers, the voice story in the subconscious that's saying, "no one really wants to hear you" and we rewrite the bad voice habit it left behind.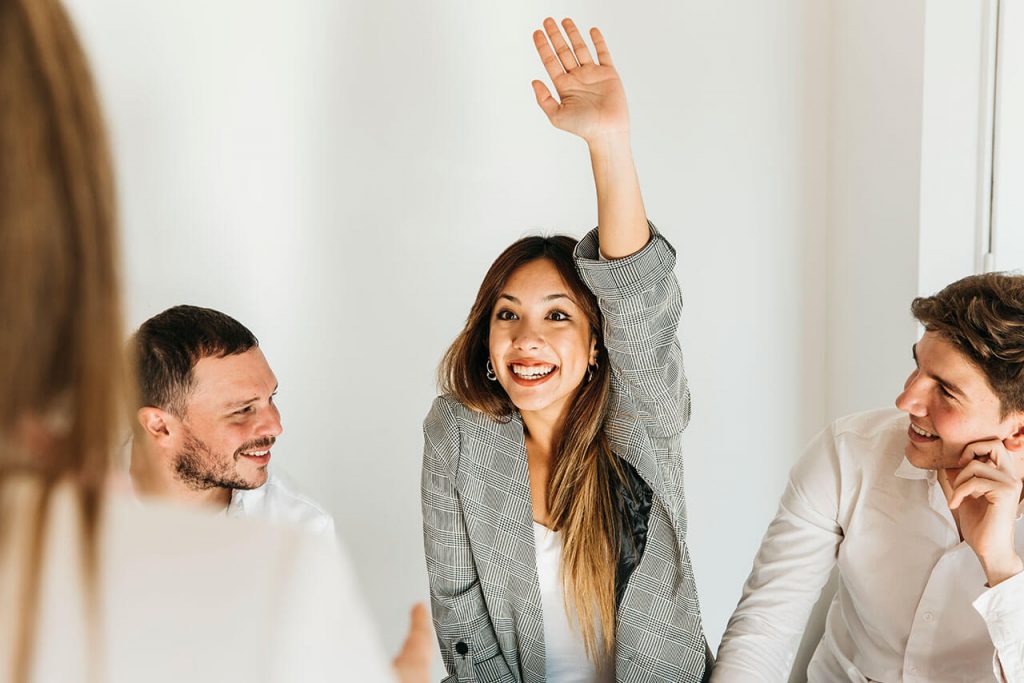 The result…
The freedom to say what we need and want to say without fear
Speaking with confidence
Standing in a good kind of voice power
The ability to shine a light on one's achievements without feeling bad about it
The ability to captivate the room
Taking ownership of one's successes and not be overlooked
Using sensitivity and emotion in a way that you've never thought about but having the ability to change people's lives because of it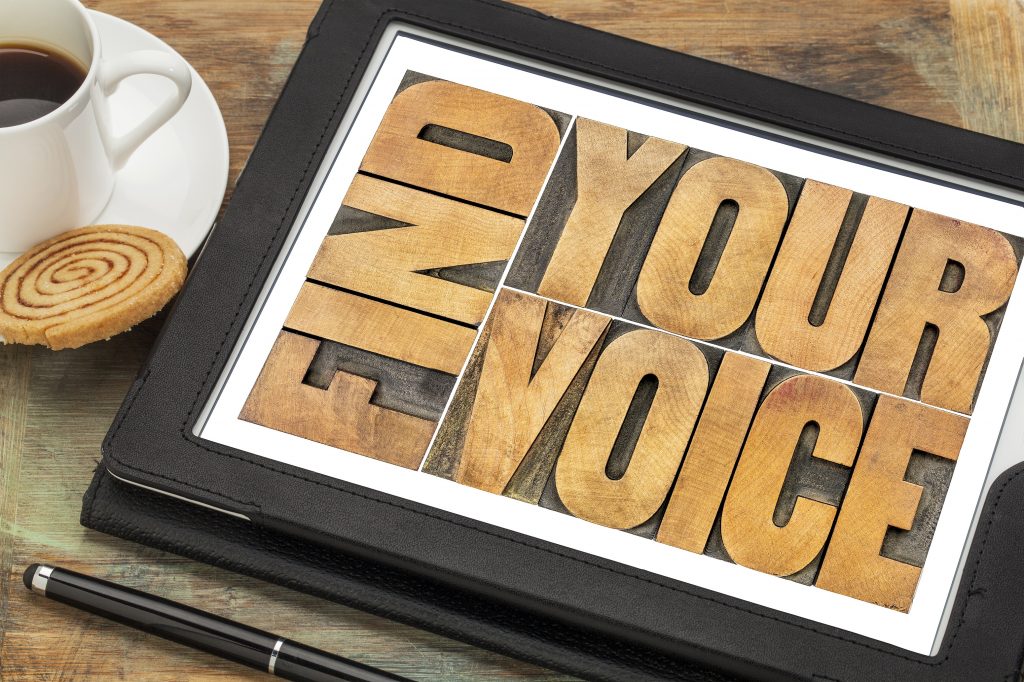 The way the group works:
Live, online interactive voice, communication and speaking class for girls ages 13-15 or 16-19
In this live online class girls first and foremost see they are not alone, they learn incredibly powerful ways to use their voice and they have a safe supportive space to practice in.
Interactive, hands-on coaching that's individualized to each participant.
We'll cover:
Psychology of the voice story
Speaking with confidence
Captivating the Room
Building connections
Conflict and how to manage it so it's not scary at all
Interviewing
Conversations
Presentations
Answering questions
Negotiating
This class is for girls who:
Want to get past the fear of judgment,
Those who are interested in learning how to articulate their message with clarity,
Girls who have strong ambitions and want to make an impact on the world,
Those who struggle with confidence on a small or large scale,
Those who struggle with setting boundaries,
Any girls who are intimidated and afraid to speak their thoughts or opinions for fear others won't like them,
People pleasers, introverts, extroverts, any girl who uses their voice ever!
This is also a great program for girls who:
Give presentations,
Answer questions or share their thoughts or opinions in class,
Who will interview for jobs, scholarships or internships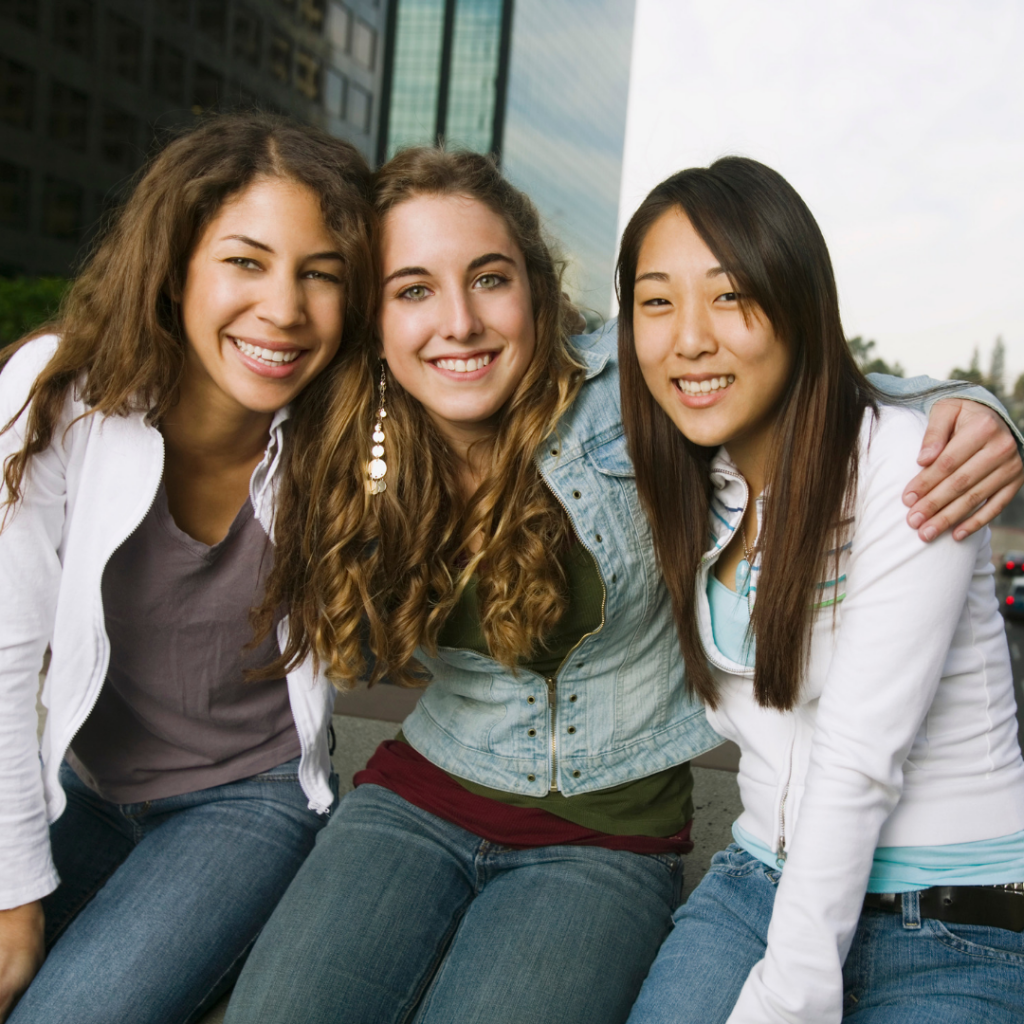 In this live online class via Zoom your teen will learn how to:
*Use their voice with confidence
*Learn about the true power voice, the middle voice that no one ever talks about,
*How to deliver an impactful message and set a boundary in a kind but firm way
*Get past the fear of judgment and understand what judgment really is
*Use their voice to articulate their message with clarity as they answer questions, deliver their thoughts and opinions to professors, teachers, and superiors
*Communicate with empathy
*Always be heard without having to push their ideas
*Remove negative tone and learn how it will NEVER get them what they want
*Bring their words to life with vocal variety and learn the true power of making people feel by how they use their voice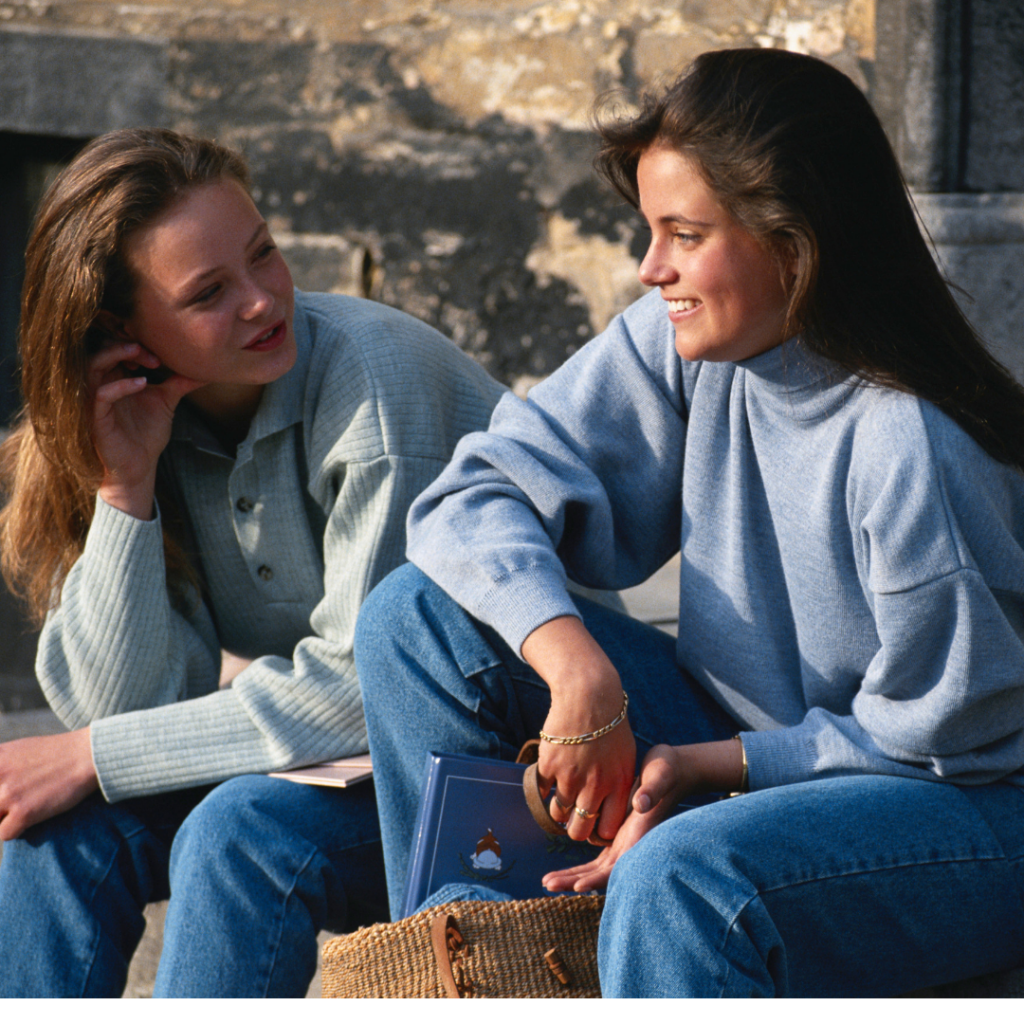 Class Details:
Class length 90 minutes each group meeting
Class meets 2X a week for 3 weeks
Class held through Zoom
Class starts the week of 3/31 and runs for 6-weeks Class meets Tuesdays or Thursdays
*Time and day of the week scheduled according to all participants availability
Email for more information if needed tracy@captivatetheroom.com
Hands-on Coaching Class investment $297.00 This course is over HALF OFF the price of my live coaching programs which are usually $997.00
*Referral discount available, invite your friends and save!
Yes, I'm In!
https://link.waveapps.com/292jjh-dney4q
Don't miss this once in a lifetime opportunity to help your daughter write a new voice story and set herself up for success!
Inner freedom, Confidence, Connection, Captivate!
Hear what others have to say about working with Tracy: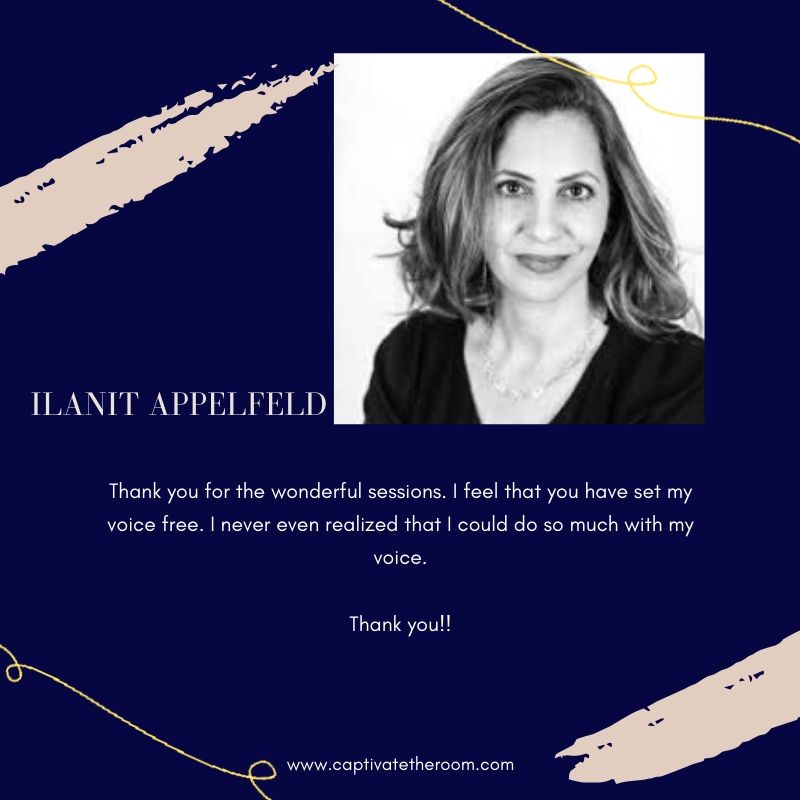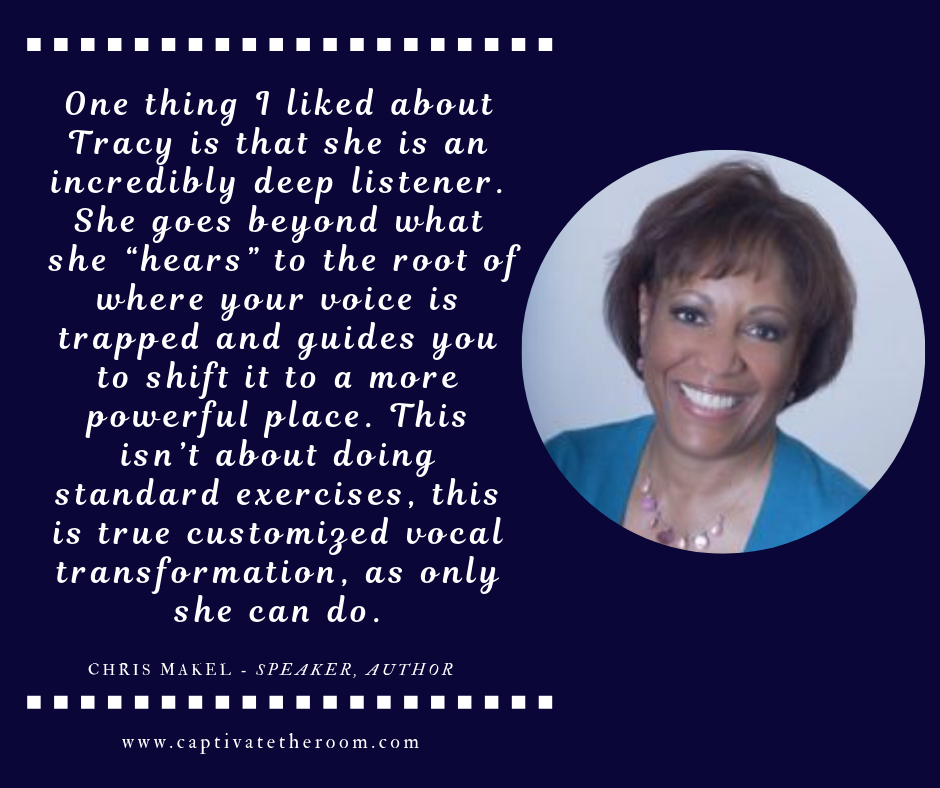 Tracy has also worked with kids and teens for over 30 years, primarily as a theater director and choreographer. Tracy traveled the globe with several youth theater troupes and the shows she directed. International tours included Russia, Ireland, France, UK
Don't miss this once in a lifetime opportunity to be on the front end of a life-changing program that will travel the globe helping young girls find their voice and set themselves up for massive success.
Yes, I'm in!
https://link.waveapps.com/292jjh-dney4q
If you have any questions, feel free to email tracy@captivatetheroom.com