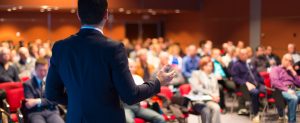 Find Your Voice
Step Up, Speak Your Mind, and Transform Your Life
Have you ever felt like you had more to say but couldn't quite bring yourself to speak up?
Maybe you've been afraid of what people would think or that you wouldn't come across the way you want to come across, so you stayed quiet.
But, staying quiet means you're selling yourself short and losing out on valuable connections with the people around you.
In fact, your voice is the most powerful tool you have … if you know how to use it.
It isn't easy, though. Throughout our entire lives, we've had parents, teachers, coworkers, and society telling us that we talked too loud, too quiet, too fast, too slow.
When I was a child, I learned that children were to be "seen and not heard," a phrase I bet you might have heard as a child too.
And, even though I started winning speaking awards when I was only 12, as a young adult, I continued to receive the same message:
That I should be quiet and say and do what was expected of me, no matter what the personal cost.
It's time to undo what you've been taught.
It's time to find the freedom to be who you are meant to be, without worrying about what everyone around you will say or think.
It's time to tap into the power of Psychology of the Voice® so you can finally show up in the world as your authentic self.
 Psychology of the Voice® is the framework I developed based on decades of research and work with hundreds of people, all over the world, from every walk of life.
It's designed to identify the subconscious blocks that are affecting your voice and holding you back, break through the blocks and get you on the path to the confidence and freedom you need to find and use the personal power in your voice.
In Find Your Voice, you'll learn how to:
Transform your psychology of the voice story so you can establish instant connections with people who want to hear what you have to say
Push through the blocks and barriers that are keeping you from your power and confidence, so you can speak and feel confident even in videos
Achieve the freedom to speak from the heart, in any situation, without worrying about what others will think of you
Captivate the room so you can make a bigger impact while increasing your reach and revenue
In this course, we'll cover everything you need to know to harness the power of your voice, including:
Pillar 1: Confidence: Learn what it takes to be confident, no matter what
Pillar 2: Connect: Uncover the secrets blocks that are keeping you from the next level of connection
Pillar 3: Captivate: Tap into the Five Elements of Vocal Variety so you can compel, command, and captivate with your voice
Stop hiding. Stop struggling to say what you want to say.
Instead, transform your life with the confidence that comes from finally finding your voice and setting yourself free.
 I'm ready to start!